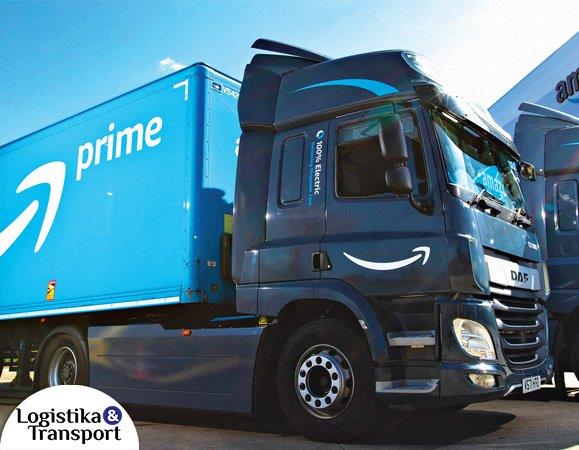 DAF delivers five CF electric trucks to Amazon in the UK
GCW 37-tonska, potpuno električna vozila pridružuju se Amazonovoj floti "srednjih milja", prevozeći robu sa 0% emisije izduvnih gasova. Pet DAF CF električnih kamiona su prvi Amazonovi električni kamioni "srednjih milja" koji posluju u Evropi.
Ova vozila predstavljaju značajnu etapu u razvoju prema elektrifikaciji Amazonove flote, čineći deo "Shipment Zero" – Amazonovog cilja da dostavi 50% pošiljki sa ukupno 0% emisije ugljenika do 2030. godine. Ovih pet vozila zameniće dizel kamione, što će kao posledicu imati i do 100.000 milja godišnje, pređenih koristeći obnovljivu električnu energiju, što će sprečiti emisiju oko 170 tona CO2.
"Svi smo uzbuđeni što dostavljamo DAF CF električna vozila u flotu Amazona i podržavamo njihovu posvećenost ispunjenju Klimatskog obećanja" naveo je direktor prodaje flote kamiona DAF-a, Elko van Vin. "DAF CF električni kamioni predstavljaju važan korak u industriji prema dostizanju 0% emisije u distribuciji "srednjih milja". Električna vozila su razvijena kao odgovor na sve veću potražnju za boljim kvalitetom vazduha i nižom emisijom CO2 u transportnom sektoru. Zahvaljujući pametnom planiranju i brzom punjenju CF električna vozila mogu da pređu i do 500 km dnevno. Ovo je cifra sa kojom operateri zaista mogu da rade."
"Amazon je jedna od prvih kompanija u svetu koja je na put postavila električne teške teretne kamione" rekao je Džon Baumfri, regionalni menadžer Amazona za Veliku Britaniju. "Posvećeni smo potpunoj dekarbonizaciji do 2040. godine, a ovo je ključni događaj na našem putu dekarbonizacije transportne mreže, kako bismo dostavili više porudžbina klijentima koristeći vozila sa 0% emisije".
DAF CF električna vozila dostupna su kao 4×2 šleper (GCW: 37 tona) i 6×2 kamion (GVW: 28 tona) sa upravljanom pratećom osovinom za maksimalnu upravljivost. Električni motor od 210kW (maksimalna snaga 240kW) crpi svoju snagu iz baterije od 350kW (315kW efektivne snage). Kompletno punjenje traje samo oko 75 minuta putem stanice za punjenje kapaciteta od 250kW.